Ronald G. Crystal, M.D.
Pulmonary Disease Medicine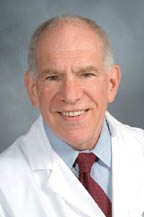 Our translational research program includes many projects in the fields of genetic therapies and personalized medicine.

The field of genetic therapies comprises gene and stem cell therapies and our laboratory has extensive expertisein both areas. Our group was the first to use a recombinant virus as a vehicle for in vivo gene therapy and we have carriedout human trials of gene therapy for cystic fibrosis, cardiac ischemia, cancer and central nervous system disorders. Amongthe current projects are gene transfer strategies for cancer, inherited CNS disorders, á1-antitrypsin deficiency, anti-bioterrorismapplications and development of vaccines. We also operate the clinical vector production laboratory of the Belfer Gene TherapyCore Facility, which has produced adenovirus and adeno-associated virus vectors that have been used in numerous human studies.Current projects in the field of stem cell therapy include characterization of the roles of cancer stem cells in lung cancerand the role of airway epithelium stem cells in chronic obstructive pulmonary disease.

Personalized medicineis the use of information and data from an individual's genotype, or level of gene expression to stratify complex diseases,select a medication or dose of a medication, provide a therapy, or initiate a preventative measure that is specifically suitedto that patient. In addition to genetic information, other factors, including imaging, laboratory, and clinical informationabout the disease process or the patient are integrated into the process of developing personalized medicine. Our group utilizesmicroarray technologies for genome-wide characterization of gene expression, single nucleotide polymorphism and copy numbervariation profiles on clinical samples as the basis for projects aimed at indentifying candidate genes associated with complexdisease such as chronic obstructive pulmonary disease.

The overall research program of the group includesclose collaborations with other laboratories at Weill Cornell and elsewhere, including Malcolm Moore's group at Memorial SloanKettering Cancer Center for stem cell projects. Of particular note are our collaborations on personalized medicine projectswith colleagues at Weill Cornell Medical College-Qatar and Hamad Medical Corporation in Doha, Qatar and collaborations onBioinformatics and Biostatistical Genetics with several laboratories at Cornell-Ithaca, including Andy Clark and Jason Mezey.
Post-doctoral Training:
Internship:Internal Medicine, Massachusetts General Hospital, Boston, MA
Residency: Internal Medicine, Massachusetts General Hospital, Boston, MA
Fellowship: Clinical Fellow in Medicine, Harvard University, Cambridge, MA
Research Associate, Section on Molecular Hematology, NHLI, NIH, Bethesda, MD
Head, Section on Pulmonary Biochemistry, NHLI, NIH, Bethesda, MD
Clinical Fellow, Chest Medicine, University of California, San Francisco, CA
Chief, Pulmonary Branch, NHLBI, NIH, Bethesda, MD
Special Volunteer, Pulmonary Branch, NHLBI, NIH, Bethesda, MD
Military: Surgeon, Commissioned Corps, USPHS; Senior Surgeon, Commissioned Corps, USPHS; Medical Director, Commissioned Corps, USPHS;
Present, Medical Director (Retired), Commissioned Corps, USPHS