Robert Mark Minutello, M.D.
Interventional Cardiology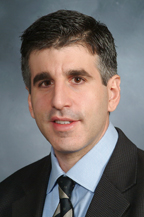 The art of medicine is always a collective effort - in order for a physician to provide optimal medical care, he or she must be surrounded and supported by the optimal team. Weill Cornell has afforded me the opportunity to work in such an environment and provide the finest of medical care. Moreover, my dual role as provider and educator allows me to train and mentor the brightest of future physicians."
Dr. Minutello is an Interventional Cardiologist specializing in angioplasty and stenting, as well as management of cardiovascular diseases on an outpatient basis. His areas of research interest include percutaneous coronary intervention outcomes research and he is in charge of the Cornell Cath Lab institutional database. Dr. Minutello has worked jointly with the New York State Department of Health in outcomes data analysis utilizing the statewide angioplasty registry.
Dr. Minutello is the Director of the Interventional Cardiology Training program at Weill Cornell. He serves on the Institutional Review Board as well as the institution's Acute Coronary Syndrome/Door to Balloon committee.
A summary of Dr. Minutello's Education, Training and/or Faculty Appointments is listed as following:
1991 B.S. - Brown University
1996 M.D. - Washington University, St. Louis
1999 Residency, Internal Medicine - Cornell Medical College
2002 Fellowship, Cardiology - Cornell Medical College
2003 Fellowship, Interventional Cardiology - Cornell Medical College
Other: Fellow, American College of Cardiology
Fellow, Society for Cardiovascular Angiography and Interentions
Associate Professor of Medicine, Weill Cornell Medical Center
Director, Interventional Cardiology Fellowship Training Program