Zachary Grinspan, M.D.
Pediatric Neurology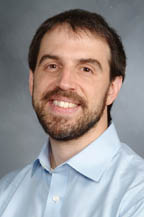 Dr. Zachary Grinspan is an Instructor in Pediatrics at Weill Cornell Medical College and an Assistant Attending Pediatrician at NewYork-Presbyterian/Weill Cornell Medical Center. He is board certified in Neurology with Special Qualification in Child Neurology.
Dr. Grinspan completed his Bachelor of Science in Physics and Mathematics at Yale University (New Haven, CT). He went to medical school at the Albert Einstein College of Medicine in the Bronx, NY where he received his medical degree (M.D.) with a Distinction in Neuroscience. He served as a Pediatrics resident at Massachusetts General Hospital in Boston, then returned to New York for Neurology training at Columbia University Medical Center, where he also served as Chief Resident. Dr. Grinspan returned to the Bronx for specialized training in Neurophysiology at Montefiore Medical Center.
Dr. Grinspan has clinical expertise in pediatric epilepsy and general pediatric neurology.