Yong H. Auh, M.D.
Diagnostic Radiology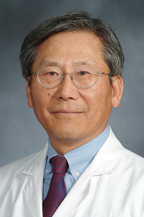 I have a unique career in radiology. I have dual radiology training in Korea and in the United States. I served as faculty member for many years at both Weill Cornell Medical College and Asan Medical Center which is the largest and the best institution in Korea. For almost 30 years my practice, education, and research have been focused in body imaging, particularly hepatobiliary-pancreas imaging. I have seen the evolution of radiologic imaging from the traditional modalities to state-of-the-art modalities. I am well adapted in various image modalites and techniques.
After I graduated from medical school inKorea in 1972, I had five years of postgraduate training in radiology including one year of rotataing intership. I arrived in the United States in 1977, and trained in radiology at Temple University Hospital in Philadelphia for two years. This was followed by a year (1979) of fellowship tranining in abdominal imaging at NewYork-Presbyterian Hospital-Weill Cornell Medical Center. I was invited to join the Radiology faculty at Weill Cornell Medical College where I remained until 1986. At this time, I returned to Korea to as the chair of radiology department at the brand new hospital. This institution became the largest and one of the best institutions in Korea in a very short period time. After stepping down as chair, I returned to the United States in 2000 and rejoined the Department of Radiology at Weill Cornell as a Chief of the Division Body imaging. I have published more than 200 papers in peer-reviewed journals and have authored three books and 14 chapters in distinguised radiology textbooks. I enjoy teaching and have been an invited lecturer to numerous conferences and have been visiting professor to several institutions in Korea and China.