Yen-Chun Liu, M.D., D.Phil.
Pathology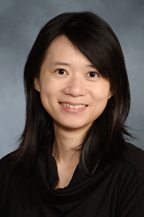 Dr. Yen-Chun Liu is Assistant Professor of Pathology and Laboratory Medicine at the Weill Cornell Medical College and an Assistant Attending Pathologist at the New York-Presbyterian Hospital (Cornell Campus). She is board certified by the American Board of Pathology in Anatomic Pathology, Hematology and Molecular Genetic Pathology.

Dr. Yen-Chun Liu completed medical school at National Taiwan University in 2002. She subsequently received Master degree in epidemiology from Harvard School of Public Health and Ph.D degree from Johns Hopkins University. She completed residency training in Anatomic Pathology at the National Cancer Institute, National Institutes of Health (2008-2011); followed by a one-year fellowship in Hematopathology (2011, Weill Cornell Medical College) and a fellowship in Molecular Genetic Pathology (2012, Memorial Sloan Kettering Cancer Center). Dr. Liu's clinical responsibilities are concentrated in hematopathology and molecular hematopathology.