Ype P. de Jong, M.D., Ph.D.
Gastroenterology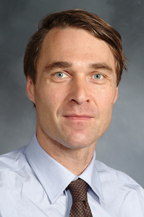 Dr Ype de Jong is an Assistant Professor of Medicine at the Sanford I. Weill Medical College of Cornell University andan Attending Physician, New York-Presbyterian Hospital Cornell campus. He joined the faculty after completing his Internal Medicine and Gastroenterology training at Mount Sinai Hospital, New York. In his patient practice Dr. de Jong's interests include viral hepatitis, Primary Biliary Cirrhosis, and Non-Alcoholic Fatty Liver Disease as well as liver disease associated with Inflammatory Bowel Disease. In addition he is trained in general Gastroenterology, including endoscopy and colon cancer screening. His research interests are geared to better understanding how hepatitis viruses can evade the immune system and are able to chronically persist in a subset of those infected. To this end he is working on developing new models for hepatitis C virus infection in the basic science arm of the Center for the Study of Hepatitis C at The Rockefeller University.
Ype de Jong studied medicine at the University of Amsterdam Medical School. After completing his master's in Amsterdam he conducted research into the immunopathogenesis of Crohn's disease at the Beth Israel Deaconess Medical Center in Boston, with which he obtained his PhD. He subsequently completed his Internal Medicine internship and residency at the Mount Sinai Hospital in New York, followed by a fellowhip in Gastroenterology at the same institution. He currently is an Assistant Professor of Medicine at Weill-Cornell Medical College. Dr de Jong is an intricate part of the Center for the Study of Hepatitis C, both as a physician at New York-Presbyterian Hospital and as a Visiting Clinical Fellow at The Rockefeller University.