W. Shain Schley, M.D.
Otolaryngology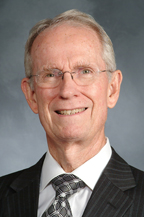 Dr. Schley received both his undergraduate and medical degrees from Emory University. He trained as an intern and resident in General Surgery at Roosevelt Hospital. He completed a two-year tour of duty as a medical officer in the U.S. Navy, and served in Vietnam, attaining the rank of Lieutenant Commander. He then completed his residency training in Otorhinolaryngology at The New York Hospital-Cornell Medical Center. After joining the faculty at Cornell, Dr. Schley rose through the ranks and eventually served for 16 years as the Chairman of the Department of Otorhinolaryngology at the Weill Medical College of Cornell University, and the Otorhinolaryngologist-in-Chief for the New York Presbyterian Hospital-Weill Cornell Center, until stepping down as Chair in 2005. Dr. Schley still conducts a busy clinical practice in General Otorhinolaryngology and has special interest in sleep disorders and gastroesophageal reflux.

If you are scheduled to see Dr. Schley as a new patient, please print and complete the Patient Packet and bring it with you on the day of your appointment. Thank you.