Toyooki Sonoda, M.D.
Colon and Rectal Surgery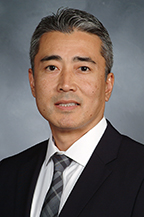 Toyooki Sonoda, MD is an Associate Professor of Clinical Surgery at Weill Cornell Medical College and an Associate Attending Surgeon at NewYork-Presbyterian Hospital/Weill Cornell Medical Center. Dr. Sonoda treats a wide variety of colon and rectal diseases, such as colon and rectal cancer, inflammatory bowel disease, diverticular disease, benign conditions of the anus, and functional problems such as rectal prolapse and incontinence. He is highly skilled in minimally invasive colon and rectal surgery, and has lectured nationally and internationally on these procedures. Dr. Sonoda was named by Castle Connolly and US News & World Report in 2011-13 as one of "America's Top Doctors". He has been named by Castle Connolly as a "New York Super Doctor" yearly from 2008 - 13, and has received the "Patient's Choice Award" from 2008 - 13.

For more information about about the clinical expertise of the Colon and Rectal Surgery section visit http://www.cornellsurgery.org/colonrectal
Dr. Sonoda graduated from Stanford University in 1989, and received his medical degree in 1993 from Yale University School of Medicine. He performed his postdoctoral training in general surgery at UC San Francisco until 1995, and completed his training at The Cleveland Clinic Foundation in 1998. His subsequent specialty training includes a minimally invasive colon and rectal surgery fellowship at the Mount Sinai Medical Center from 1998-9, and a fellowship in colon and rectal surgery at The Cleveland Clinic Foundation from 1999-2000. He then traveled to Japan to help develop a laparoscopic gastric surgery program in 2000 in Osaka, Japan. Dr. Sonoda has been practicing at New York Presbyterian Hospital since 2001, and is currently the Residency Director for the combined New York Presbyterian Hospital/Memorial Sloan Kettering Cancer Center Colon and Rectal Surgery Residency Program. He is also the Director of the Greenberg 14 North Gastrointestinal Surgery floor.