Tomer Mark, M.D.
Medical Oncology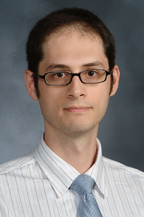 After completing fellowship at New York Presbyterian Hospital - Weill Cornell Medical Center under the mentorship of Dr. Ruben Niesvizky, I have joined the Center for Lymphoma and Myeloma as a full-time clinician with a focus on clinical and translational research. I hope to provide excellent care to persons with multiple myeloma and other plasma cell disorders in the context of advancement of the clinical knowledge of these diseases. Our approach at the practice is to improve upon the standard of care and provide a broad range individualized treatment for each unique patient, be it from oral treatments, to chemotherapeutics, to stem cell transplant.

Our goal at the myeloma practice at Weill Cornell is to one day find a cure. We are working diligently and making progressive strides towards this end; currently, we are bringing the latest advancements to patients with plasma cell disorders into regular clinical practice.
Dr. Tomer Mark is an assistant professor of medicine at the Weill Cornell Medical College. He specializes in seeing patients with multiple myeloma and other plasma cell disorders, with a focus on stem cell transplantation and clinical trials.
Dr. Mark grew up in New York where he attended public school. He graduated from the Bronx High School of Science in 1994. Dr. Mark graduated from Yale University in 1998 and went to medical school at the State University of New York at Stony Brook, where he graduated with a medical degree with recognition in research. He did his Internal Medicine Residency training at Beth Israel Deaconess Medical Center, Boston, MA. and completed his Hematology and Medical Oncology Fellowship at New York Presbyterian Hospital: New York Weill Cornell Center in June 2008.
Dr. Mark is currently enrolled in the Master's Program in Clinical Investigation at the Weill Cornell School of Graduate Sciences in addition to sharing clinical responsibilities at the Multiple Myeloma Center. He currently lives in Queens, NY with his wife and two dogs.