Thomas Murry, Ph.D.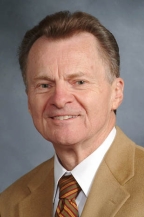 Thomas Murry, Ph.D. is a nationally and internationally recognized speech-language pathologist and voice scientist with clinical and research expertise in voice disorders, care of the performer's voice and swallowing disorders. He has a special interest in the voice disorders of performing artists and those that result in shortness of breath or chronic cough. Dr. Murry serves as a Professor of Speech-Language Pathology in the Department of Otorlaryngology at Weill Medical College of Cornell University.

Dr. Murry received his undergraduate degree from Indiana University of Pennsylvania and his Master of Arts degree from The Ohio State University. He received his Ph.D. from the Communication Sciences Laboratory, University of Florida, Gainesville and went on to complete a post-doctoral fellowship at the University of Florida. Dr. Murry continued his research as a lieutenant in the US Navy at the Naval Submarine Medical Research Laboratory, New London where he worked on the design and development of underwater human communication systems.

Following his research with the U.S. Navy, Dr. Murry went to San Diego where he joined the Veterans Administration Medical Center and the University of California, San Diego as both a research scientist and speech-language pathologist in the Division of Otolaryngology, Department of Surgery. He has since worked in the Departments of Otolaryngology at the University of Tennessee, University of Pittsburgh and Columbia University where he led the development of multidisciplinary teams to treat voice and swallowing disorders. He continued his research interests at those institutions and at the same time developed and trained research fellows at the University of Hong Kong and University of Crete. He currently maintains his research and clinical practice in the Voice Center and the Center for the Performing Artist at Weill Cornell Medical College.

Dr. Murryr's current research has focused on the outcomes of treatment for voice and swallowing disorders. While at the University of California, San Diego, Dr. Murry received research funding to study the acoustic, perceptual and aerodynamic parameters of voice in patients with various neurological diseases. In addition, this work was followed up with studies of swallowing disorders following surgery to the organs of the head and neck while at the University of Pittsburgh. He continues to maintain research interests in swallowing and voice disorders.

Dr. Murry has authored or coauthored 12 books for speech pathologists and otolaryngologists. His book, Clinical Management of Swallowing Disorders with co-author Ricardo Carrau, MD is now in its second edition and is used as a text book in many speech pathology departments in the United States and abroad. His most recent two books, The Performer's Voice and The Singer's Voice, co-authored with Michael Benninger, MD of the Cleveland Clinic continue to be popular with both clinicians and performers. Along with his 12 books, Dr. Murry has contributed at least 50 chapters to books in voice and swallowing disorders.

Dr. Murry is sought after as a speaker in both the United States and abroad. He brings a clear message of voice and swallowing as problems that have a multidisciplinary management protocol. He lectures regularly at the Voice Foundation, the Dysphagia Research Society, and the American Academy of Otolaryngology. He has lectured on topics of voice and swallowing disorders in over 30 countries.

Dr. Murry is a Fellow of the American Speech Language Hearing Association. He has also received an award for being an outstanding alumnus of Indiana University of Pennsylvania. Recently, he was awarded the President's Citation from the American Laryngological Association for his contributions to the field of laryngology. He is on the Scientific Advisory Boards of the Voice Foundation, the International Association of Phonosurgery, and the International Association of Logopedics and Phoniatrics.
Current Position: Professor, Department of Otorhinolaryngology, Weill Cornell Medical College
BUSINESS ADDRESS: 1305 York Avenue
New York, NY 10021
646 962 5347
UNDERGRADUATE: Indiana University of Pennsylvania Bachelor of Science
Indiana, PA
GRADUATE: The Ohio State University: Master of Arts Columbus, OH
University of Florida: Ph.D. Gainesville, FL
POSTGRADUATE: University of Florida: Post-Doctoral Fellow
Gainesville, FL
Peer-Reviewed Publications: 121
Presentations: National 365
International : 185