Robert Rozbruch, M.D.
Orthopaedic Surgery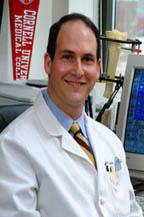 We are happy to introduce the Institute for Limb Lengthening and Reconstruction at Hospital for Special Surgery and New York Presbyterian Hospital. We are a specialty service that is dedicated to the treatment of leg length discrepancy, limb deformity, nonunions, osteomyelitis, and bone defects in the upper and lower limbs in both children and adults. We specialize in the treatment of congenital conditions such as congenital short femur, fibular hemimelia, hemiatrophy, genu varum (bowlegs), dwarfism, and short stature. We treat post-traumatic conditions such as nonunions, limb deformity and shortening, foot and ankle deformity, bone defects and infection. Minimally invasive techniques are used for knee realignment to treat knee arthritis. We use a variety of techniques including external fixation, the Ilizarov method, internal fixation, arthroscopy, and joint replacement. With a dedicated group of physicians and surgeons, nurses, therapists, and operating room personnel, we have been able to achieve excellent results for our patients. Please visit our website http://www.LimbLengthening.com for more information.

http://www.hss.edu/htdoc/physicians/physician_biographies/rozbruch.asp
After graduating Magna Cum Laude from the University of Pennsylvania, he attended Weill Medical College of Cornell University from which he graduated with honors in research. Residency training in Orthopaedic Surgery was followed by two fellowships. He did specialized training in Trauma as an AO fellow at the University of Bern in Switzerland. Additional training in adult and pediactric limb lengthening followed at the Maryland Center for Limb Lengthening & Reconstruction.
Dr. Rozbruch is the Director of the Institute for Limb Lengthening & Reconstruction, Co-Chief of the Limb Lengthening Service, and an active member of the Orthopedic Trauma Service at the Hospital for Special Surgery. He is an Assistant Professor of Orthopedic Surgery at Weill Medical College of Cornell University. He is a member of several national medical societies including fellowship in the American Academy of Orthopaedic Surgeons, Orthopaedic Trauma Association, and ASAMI - The Limb Lengthening & Reconstruction Society. He has presented his clinical and research works at national medical meetings and has authored numerous articles in medical journals and chapters in Orthopaedic textbooks.