Soumitra R. Eachempati, M.D.
Surgical Critical Care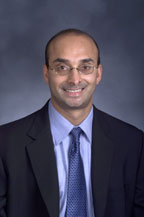 Dr. Eachempati serves as Director of the Surgical Intensive Care Unit. He is involved in a busy clinical surgical practice, multiple research interests, and extensive teaching responsibilities to fellows, residents and medical students. His research interests include topics pertinent to abdominal surgery, critical care, and trauma. He is board-certified by the American Board of Surgery in both General Surgery and Surgical Critical Care.
Dr. Eachempati attended college at Georgetown University in Washington, DC, where he received a Bachelor's of Science in chemistry in 1987. He then went to Northwestern University in Chicago, Illinois where he graduated in 1991 with an MD. He completed his general surgery internship and residency in 1996 from Wayne State University in Detroit, Michigan. As a resident, Dr. Eachempati received multiple awards for teaching excellence. During this time, he was also selected to participate in an educational project in Hanoi, Vietnam where his group taught Vietnamese surgeons new techniques in laparoscopic surgery.
After residency, Dr. Eachempati worked at Duke University Hospital where he completed a fellowship in Surgical Critical Care in 1997. During this time, he published multiple studies in critical care and trauma surgery. Following this fellowship, he received an academic appointment as an Instructor of Surgery in the Department of Surgery at Duke University School of Medicine in 1997. Following one year as an attending surgeon at Duke, he moved to New York City to become an Assistant Professor of Surgery at the Weill Medical College of Cornell University.