Szilard Kiss, M.D.
Ophthalmology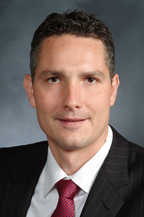 Szilard Kiss, MD, is an Assistant Professor of Ophthalmology at Weill Cornell Medical College and an Assistant Attending Physician at the New York Presbyterian Hospital. He is a board certified ophthalmologist with a primary focus in the surgical and medical management of adult and pediatric vitreo-retinal disorders. Dr. Kiss also provides direct supervision and instruction of Weill Cornell Medical College medical students, ophthalmology residents, and vitreo-retinal fellows.
Dr. Kiss' training began in New York City where he received his undergraduate degree with honors from Columbia College and medical school training at Columbia University College of Physicians & Surgeons. Following an internal medicine internship at St. Luke's-Roosevelt Hospital in New York City, Dr. Kiss moved to Boston to complete an ophthalmology residency and a vitreo-retinal fellowship, both at Harvard Medical School and the Massachusetts Eye and Ear Infirmary. During that time, Dr. Kiss was selected as the Chief Fellow of the Harvard Medical School Vitreo-Retinal Service at the Massachusetts Eye and Ear Infirmary. Dr. Kiss received additional training in Madurai, India at the Aravind Eye Hospital and in Sao Paulo, Brazil as the Pan American Association of Ophthalmology Paul Kayser International Scholar.
Dr. Kiss's clinical interests include complex vitreo-retinal surgery (e.g. retinal detachment repair, epiretinal membrane peeling, macular hole repair, retained lens fragment removal), and surgical and medical treatment of age-related macular degeneration and diabetic retinopathy. He has published over two dozen articles including publications on innovative surgical techniques and novel treatment paradigms for retinal disorders.
Dr. Kiss was featured in a CBS special on Weill Cornell's 3D CAVE (Computer Assisted Virtual Environment), which allows doctors to see inside the human body like never before. In this segment, Dr. Kiss demonstrates how this new technology can transform the way ophthalmologists look at the retina of the eye.
His clinical and translational research focuses on four broad areas: retinal imaging (ultra-widefield imaging), ocular gene therapy, novel therapeutic targets for ocular neovascualarization, and genetic markers for retinal diseases. Dr. Kiss has participated as a co-investigator or sub-investigator in numerous clinical trials and laboratory investigations. Dr. Kiss is also highly active in professional societies. He has authored over 150 scientific publications, given nearly 100 invited lectureships worldwide, and serves as a Scientific Reviewer to a number of major journals.
Dr. Kiss is on the Editorial Board of RetinaToday and is a regular contributor to the publication. He has also been featured in a number of videos on EyeTube.net.
Dr. Kiss also has a keen interest in international healthcare and is heavily involved in research on diabetic retinopathy in countries in the Middle East and Africa.
Dr. Kiss has won numerous academic awards, including a Heed Ophthalmic Foundation Fellowship, the Ronald G. Michels Foundation Fellowship, and the Paul Kayser International Fellowship and has been named to several Top Doctors lists.
He is currently accepting new patients, appointments can be made by calling 646-962-2020http://www.weillcornelleye.org/.
or 646-962-2217 , or by visiting