Sheila J. Carroll, M.D.
Pediatric Cardiology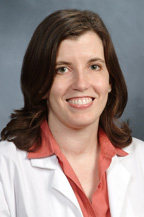 My clinical interests include the fetal and post-natal diagnosis of congenital heart disease and the management of patients after open heart surgery and cardiac catheterization. It is especially gratifying to be able to work closely with families and participate in optimizing the care of infants, children and adolescents with heart disease.
Dr. Sheila Carroll is an Assistant Professor of Pediatrics in the Division of Pediatric Cardiology at Weill Cornell Medical College and Assistant Attending Pediatrician at New York-Presbyterian Hospital/Weill Cornell Medical Center. She is the director of Fetal Cardiology at Weill-Cornell and works closely with the Divisions of Newborn Medicine in the Department of Pediatrics and Maternal-Fetal Medicine in the Department of Obstetrics and Gynecology. She also has faculty appointments in Pediatrics at Columbia University, College of Physicians and Surgeons.

Dr. Carroll is board certified in both Pediatrics and Pediatric Cardiology. She has been elected as a fellow of the American College of Cardiology (F.A.C.C.) and of the American Academy of Pediatrics (F.A.A.P.).

She completed her undergraduate studies at Brown University where she obtained a Bachelor of Arts with a double major in Biology and Medieval Studies. She received her MD from the State University of New York-Downstate Medical Center, completed her residency training in pediatrics at Brown University/Hasbro Children's Hospital. Dr. Carroll subsequently undertook a post-doctoral research fellowship at Columbia University College of Physicians and Surgeons where she developed projects studying the genetics of inherited cardiac disease including the long QT syndrome, hypertrophic cardiomyopathy and Brugada syndrome. Dr. Carroll then completed her clinical fellowship in pediatric cardiology at Columbia University Medical Center of NewYork-Presbyterian Hospital.

Currently a co-investigator developing a fetal echocardiography database at the NewYork-Presbyterian Hospital, Dr. Carroll has published on a variety of topics ranging from a novel mutation in SCN5A manifesting as a spectrum of phenotypes to the coexistence of cor triatriatum and Tetralogy of Fallot.