Stephen John Ferrando, M.D.
Psychiatry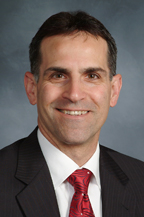 Stephen J. Ferrando, MD is Professor of Clinical Psychiatry and Clinical Public Health and Vice Chair for Psychosomatic Medicine and Departmental Operations in the Department of Psychiatry at the New York-Presbyterian Hospital/Weill Cornell Medical Center. He is also Dewitt Wallace Senior in the Department and the Associate Medical Director and Vice Chair for Clinical Programs for New York-Presbyterian Hospital/Weill Cornell Medical College's Westchester Division.
Dr. Ferrando attended Northwestern University Medical School, did his psychiatry residency training at the University of California, San Francisco and subsequently did an NIMH-funded HIV/AIDS research training fellowship at Weill Cornell. He is board-certified in Psychiatry and Psychosomatic Medicine. Dr. Ferrando has focused his clinical work and research on the neuropsychiatric and quality of life aspects of chronic illnesses such as HIV/AIDS, Hepatitis C, liver transplantation and neurological diseases. He has authored over 100 peer-reviewed journal articles and book chapters and is a peer-reviewer for journals that span multiple medical specialties. He is Editor-In-Chief of "Neurobehavioral HIV Medicine," a peer-reviewed journal; Senior Editor of "Psychiatry-in-Review," a multi-media Psychiatry board review guide; as well as "Clinical Manual of Psychopharmacology in the Medically Ill," published by the American Psychiatric Press, Inc. Dr. Ferrando is past president of the New York Area Society for Liaison Psychiatry; is a Fellow of the Academy of Psychosomatic Medicine and is a 15-year member of the American Psychiatric Association Committee on AIDS.
To schedule appointments:
Call - (212) 746-3916 or
Email - sjferran@med.cornell.edu