Scott Adams Ely, M.D.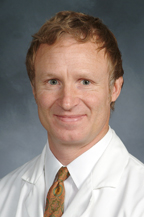 Dr. Ely's practice in hematopathologymainly involves the diagnosis of and prognostication for multiple myeloma (MM), lymphoma and leukemias. His research has beenin the areas of B cell lymphomas and plasma cell neoplasms (MM and monoclonal gammopathy of undetermined significance [MGUS]).Dr. Ely is co-director of the immunopathology core for the Specialized Center of Research for Multiple Myeloma. As such, hismain research focus is developing assays for cell cycle analysis at the single cell level, through the use of manual and automatedquantitative image analysis of immunohistochemistry. His work applies mainly on the use of such assays for drug developmentand efficacy monitoring in multiple myleoma and lymphoma patients. Through the utilization of these assays, his work has helpedin our understanding of the role of the cell cycle in these and other cancers, and it has led directly to the developmentof targeted therapies. Although development of these assays is ongoing, currently they are being used in 4 multi-center phase1/2 clinical trials.
Dr. Ely studied microbiology and English literature at Louisiana State University and Queen Mary College of the University of London. He went to medical school at Tulane University School of Medicine and concurrently completed a masters degree in public health at the Tulane University School of Public Health and Tropical Medicine. After graduation, he completed a general surgery internship at S.U.N.Y., Brooklyn, followed by an anatomic pathology and clinical pathology residency at Lenox Hill Hospital, in New York City. After residency, he completed a hematopathology fellowship, followed by a post-fellowship year of basic science research at Cornell University Medical College. He was appointed to the attending staff in the Hematopathology Division of the Department of Pathology in 1998. Dr. Ely is board certified in anatomic pathology, clinical pathology, and hematology.