Ruth Rosenblatt, M.D.
Diagnostic Radiology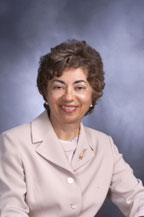 Ruth Rosenblatt, M.D., F.A.C.R., is a Professor of Clinical Radiology at Weill Cornell Medical College and Attending Radiologist at New York-Presbyterian Hospital/Weill Cornell Medical College Campus. Dr. Rosenblatt is a nationally recognized expert in mammography, ultrasonography, and diseases of the breast. Her clinical expertise is in Women's Imaging and she performs a wide variety of exams and procedures including mammography, breast ultrasound, breast MRI, ductography, ultrasound-guided core biopsy, MRI- guided breast biopsy, stereotactic breast biopsy and fine needle aspiration cytology. Dr. Rosenblatt served as Chief of the Division of Women?s Imaging at NYPH-Weill Cornell from 1997-2007.
Dr. Rosenblatt is a member of the Women's Imaging Division and Weill Cornell Imaging at NYP (www.wcinyp.org) our multi-site outpatient imaging practice.
Dr. Rosenblatt earned her B.A. from New York University (Washington Square College) New York, NY. She was awarded her M.D. from The Medical College of Pennsylvania, Philadelphia, PA. Dr. Rosenblatt served as an intern and resident in Radiology at Montefiore Medical Center, Bronx, NY from 1964-1969; she was elected as Chief Radiology Resident in 1968-69.
She achieved Board Certification in Diagnostic Radiology from the American Board of Radiology in 1969. Dr. Rosenblatt was inducted as a Fellow, American College of Radiology (F.A.C.R.) in 1984.
Dr. Rosenblatt has been active in many professional/medical societies and has been elected to leadership positions including President of the New York Roentgen Society (1989-90), President of the New York State Radiological Society 1995-96) and President of the NY Metropolitan Mammography Society (1998-2002).
Dr. Rosenblatt has been appointed to state and national accreditation boards. She is a Reviewer for the Mammography Accreditation Program of the American College of Radiology from 2002 to the Present. She was a Member of the Mammography Accreditation Committee of the American College of Radiology from 1998-2004, a Member of the Breast Cancer Detection and Education Program Advisory Council of the State of New York from 1997-2001 and the Steering Committee, Member of Clinical Guideline Development: Breast/Ovarian Cancer Screening, Counseling and Testing, New York State Department of Health and the American College of Medical Genetics from 1996-1997.
Dr. Rosenblatt is an active, enthusiastic and beloved teacher who has taught and mentored numerous residents, fellows and medical students. Dr. Rosenblatt is the author of numerous peer-reviewed publications and book chapters and has is an invited speaker at national and international meetings.
Before joining Weill Cornell Medical College in 1997, Dr. Rosenblatt served on the faculty and medical staff of the Albert Einstein College of Medicine, Bronx, NY for many years and achieved the rank of full professor.