Renuka Tyagi, M.D.
Urology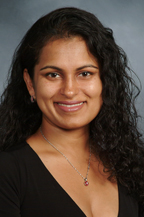 Dr. Tyagi is an assistant professor of urology at Weill Cornell Medical College/New York-Presbyterian Hospital and has a thriving urogynecology & female urology practice based in the Iris Cantor Women's Health Center.
She received her medical degree in 2000 from Wayne State University in Detroit, Michigan. She moved to New York City for training at New York-Presbyterian Hospital - Weill Cornell Medical College with her residency in Obstetrics & Gynecology, followed by a fellowship in Female Urology, Neurourology, and Pelvic Reconstructive Surgery. Her expertise and services were invaluable to the college and hospital so she was recruited to remain as a faculty member and attending physician in 2005. She is currently on staff and sees patients at the Iris Cantor Women's Center, located at 425 East 61st Street.
Her practice focuses on patient quality of life and quality care. Her surgical expertise includes minimally invasive surgical techniques for incontinence and vaginal reconstruction for prolapse and fistula repairs. The Center also provides out-patient pelvic floor therapy and sacral nerve stimulation. When visiting her practice, you are able to see either Dr. Tyagi or her nurse practitioner.
Her specialized training has allowed her to pursue cutting edge surgeries and treatments that may not have been performed elsewhere. She was the first surgeon to perform all of the following procedures at WCMC/NYP: laparoscopic sacrohysteropexy, robotic sacrocolpopexy, and robotic hysterectomy combined with sacrocolpopexy.
She shares her expertise by training her colleagues and other medical professionals in female pelvic health issues. In addition, she is involved resident and medical student training in Internal Medicine, Geriatrics, Obstetrics & Gynecology and Urology via didactic lectures and clinical rotations.
In addition to her practice and teaching duties, Dr. Tyagi is also an active investigative scientist. Her research interests include:
Surgical outcomes for vaginal reconstruction
MRI and 3-D ultrasound evaluation of prolapsed and normal vaginal anatomy
Viability of uterine preservation during prolapsed reconstruction
Prospectively observe women of child-bearing age who undergo uterine resuspension for prolapse
If you are interested in making an appointment with Dr. Tyagi, please call her practice at 212-821-0710. Or you may also call the Iris Cantor Women's Health Center for general information at 212-821-0800.