Robert Nicholas Troiano, M.D.
Diagnostic Radiology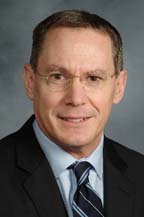 Having completed a residency in both Obstetrics & Gynecology and Radiology, Weill Cornell offers Dr. Troiano the opportunity to practice and contribute his medical expertise in both fields. Combining both disciplines, he maintains an active schedule in all three areas of the Weill Cornell's academic medical center mission: clinical practice, teaching and research.
His clinical practice includes expertise in Obstetric and Gynecologic Ultrasound, and cross-sectional abdominal and pelvic imaging notably MRI of the female pelvis. Dr. Troiano works closely with Weill Cornell's renowned Center for Reproductive Medicine and Infertility.
He has authored and co-authored many research papers published in peer-reviewed medical journals-his current research focus includes investigation of congenital uterine anomalies.
A member of both the American College of Radiology and the American College of Obstetrics and Gynecology, Dr. Troiano is a past winner of the Robin C. Watson Award for Excellence in Radiology Teaching, and a peer reviewer and editorial board member for several prestigious medical journals.
A graduate of the University of Southern California, Los Angeles, Dr. Troiano attended graduate school in Physiology at Georgetown University, Washington, D.C., before receiving his M.D. from New York Medical College, Valhalla, NY.
His post-doctoral training included an internship in Gynecology at Massachusetts General Hospital (MGH), and residency in Obstetrics & Gynecology at the Harvard University School of Medicine MGH/Brigham and Women's Hospital in Boston.
Following two years of clinical practice in Obstetrics& Gynecology in Boston, he completed a second residency in Diagnostic Radiology at Lenox Hill Hospital, New York City.
After completing a Fellowship in Cross-Sectional Imaging at Yale University, New Haven, CT, he remained on the faculty of the Yale University School of Medicine for six years.
He has held academic appointments as a Clinical Fellow at the Harvard University School of Medicine, and as an Instructor and Assistant Professor at the Yale University School of Medicine.
He joined the faculty of Weill Medical College of Cornell University in 1998.