Praveen Raju, M.D., Ph.D.
Child Neurology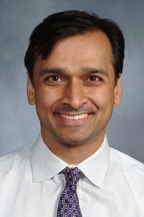 Praveen B. Raju, MD, PhD is an Assistant Professor of Pediatrics at Weill Cornell Medical College and Assistant Attending Pediatrician at NewYork-Presbyterian Hospital. He is board certified in Neurology with Special Qualifications in Child Neurology.
Dr. Raju completed his MD in 2001 at the University of Pennsylvania School of Medicine, where he also completed his PhD in Cell and Molecular Biology / Genetics. He served as a resident in Pediatrics at Babies & Children's Hospital of New York / Columbia-Presbyterian Medical Center and subsequently finished his Pediatric Neurology Fellowship training at Children's Hospital, Boston / Harvard Medical School in 2006 where he served as Chief Fellow during his final year. Prior to joining the Weill Cornell Medical College faculty, Dr. Raju was a Fellow of the Pediatric Scientist Development Program (PSDP) in Dr. Alexandra Joyner's laboratory within the Developmental Biology Program at Memorial Sloan-Kettering Cancer Center.
In addition to his clinical responsibilities, Dr. Raju's laboratory at Weill Cornell Medical College studies the developmental origins of pediatric brain tumors including medulloblastoma, atypical teratoid rhabdoid tumor (ATRT), pediatric glioma, and brainstem glioma and their respective relationships to developmental signal transduction pathways. Through the utilization of sophisticated mouse genetics techniques, Dr. Raju and his team are creating new and improved preclinical models of these childhood brain tumors to better understand their biology, investigate novel treatment approaches, as well as identify treatment resistance mechanisms that can be translated back for use in patients.