Patricia-Jane V. Giardina, M.D.
Pediatric Hematology-Oncology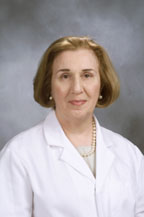 Named one of New York Magazine's Best Doctors, 2012
Named one of New York's Super Doctors, 2012

Patricia J. Giardina, MD is Attending Pediatrician at the New York-Presbyterian Hospital (NYPH) and Professor of Clinical Pediatrics at the Weill Cornell Medical College (WCMC). She is the Director of the Hemoglobinopathy Program at the NYPH-WCMC since 1978 which provides comprehensive care and psychosocial services with genetic counseling to over one hundred patients and their families per year. She graduated from New York Medical College and received her undergraduate training at Vassar College. She completed her pediatric residency and fellowship in pediatric hematology and oncology at the New York Hospital-Cornell Medical Center.


Dr. Giardina has contributed widely to the increased understanding and management of Thalassemia within the United States and abroad. She has contributed to the early sequencing of the beta globin gene, helped to identify multiple beta globin gene mutations and pioneered prenatal DNA diagnosis at NYPH-WCMC. Dr. Giardina organized the first bone marrow transplant for Thalassemia in New York in 1983 at Memorial Sloan-Kettering Cancer Center (MSKCC) and the first in-utero bone marrow transplant in 1995. Dr. Giardina is an invited speaker at national and international conferences on thalassemia and assists in the direction of new NIH Thalassemia research endeavors. Since 2002 she has organized and conducted the WCMC sponsored Continuing Medical Educational Conferences on Thalassemia management strategies for hematologists and other health professionals in association with the National Cooley's Anemia Foundation. She has conducted NIH sponsored and clinical research trials on investigating new iron chelators including DMHP, S-DFO and GT56, all potential oral iron chelators for the treatment of Thalassemia, in collaboration with Robert W. Grady, PhD and was the Principal Investigator at WCMC in the phase I efficacy studies of ICL670, the FDA approved oral iron chelator Deferasirox (Exjade).


Currently she is collaborating with Stefano Rivella, PhD on curative gene transfer studies and the clinical understanding of the role of hepcidin in iron metabolism in the Thalassemia mouse model. She is also collaborating with Michel Sadelain, MD, PhD and Farid Boulad, MD at MSKCC developing the clinical research protocols for beta globin gene transfer as well as with Yelena Ginzberg, MD at the New York Blood Center (NYBC) on the role of recombinant transferrin in the management of Thalassemia. Under the direction of Dr. Patricia Giardina, the NYPH-WCMC Thalassemia Program has played a significant role in the scientific advances and improved management of thalassemia during the past three decades. Thalassemia has been transformed from a fatal disorder to a chronic illness, a select few with a familial HLA match can be cured by bone marrow transplant. Additional oral iron chelators have been identified and the hope for a cure with gene therapy is promising.


She is on the Medical Advisory Board of the National Cooley's Anemia Foundation, the Children's Cancer and Blood Foundation, and the New York State Newborn Screening Advisory Committee for Registry and Surveillance System for Hemoglobinopathies (RuSH). In 2011, NYPH-WCMC has been designated by the New York State Department of Health as a Hemoglobinopathy Specialty Center for Newborn Screening. Under her direction, the program provides confirmation of NYS newborn screening for Sickle Cell Disease, Thalassemia and other abnormal hemoglobin variants and provides screening, genetic counseling and comprehensive medical care to those affected infants and their families.


She has been an invited speaker and participant in NIH workshops on iron chelation and behavioral issues in thalassemia. She has also addressed the direction of funding and scope of health care services for thalassemic patients in the Health and Human Services Branch in the Department of Maternal and Child Health. She is a member of the medical advisory board of the Children's Cancer and Blood Foundation (CCBF), the Cooley's Anemia Foundation (CAF) and is a medical consultant to the Thalassemia International Federation (TIF). She was most recently an invited speaker to the international TIF conference in Turkey in 2011.