Nikolaos J. Skubas, M.D., D.Sc.
Anesthesiology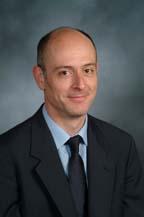 Dr. Skubas earned his Doctor of Medicine degree from Aristoteles University, Thessaloniki, Greece. He completed a residency in Anesthesiology at Case Western Reserve University in Cleveland, Ohio and a fellowship in Cardiac and Thoracic Anesthesiology at Washington University in St. Louis, Missouri.

He is Board certified in Anesthesiology and Perioperative Transesophageal Echocardiography. He joined the faculty at the Weill Cornell Medical College-New York Hospital in 2002 as a member of the Cardiothoracic Anesthesiology Division. His clinical practice centers on anesthesia for cardiac and thoracic surgeries as well as non-cardiac, high-risk procedures. His interests include perio-operative echocardiography and anesthetic techniques for minimally invasive cardiac surgical procedures.
He is Chief of the Division of Cardiac Anesthesia and supervises the ultrasound activities of the Department. He is a member of numerous medical societies, including the American Society of Anesthesiologists, the Society of Cardiovascular Anesthesiologists, and the American Society of Echocardiography. He serves as an Associate Editor for the Journal Anesthesia and Analgesia and a Fellow of the American Society of Echocardiography.