Marlin Roy Albin Mattson, M.D.
Psychiatry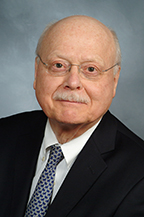 Marlin R.A. Mattson, MD is Professor of Clinical Psychiatry and Associate Vice-Chair for Compliance in the Department of Psychiatry for Weill Cornell Medical College.
Trained in Psychiatry at NewYork-Presbyterian Hospital's Payne Whitney Clinic, he has spent his entire career at NewYork-Presbyterian Hospital/Weill Cornell Medical Center. Through this period, he has been actively involved with quality assurance, peer review, continuous quality improvement, patient safety, standards of care, accreditation, risk management, and utilization review.
Actively involved in the educational activities of the Medical College, he has been a member of the Medical Education Council since 2003. Throughout his career, he has also been active in national, state, and local American Psychiatric Association (APA) components/committees. He currently represents the APA on the Board of Directors for URAC, a national healthcare accreditation organization. Since 1991, he has served on the Board of Visitors for the Manhattan Psychiatric Center. A member of the Board of Directors for the New York County Medical Society since 2002, he is a fellow of the New York Academy of Medicine (since 1983) and the Royal Society of Medicine (since 1992).