Marisa McSwain, M.D.
Anesthesiology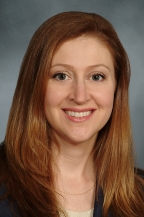 Marisa McSwain, MD is an Anesthesiologist who focuses on all aspects of patient care. Originally from the Pennsylvania town of Bloomsburg, she attended college and earned a BA at the University of North Carolina, Chapel Hill. After college, she worked for a pharmaceutical company in various capacities and decided to pursue a career in medicine. She relocated to New York City and completed the pre-med, post-baccalaureate certificate at Columbia University in 2004. Dr. McSwain earned her MD at SUNY Downstate in Brooklyn in 2009, and completed her residency training in 2013 at Weill Cornell Medical College.
Dr. McSwain joins the Department of Anesthesiology faculty with appointments as an Instructor in Anesthesiology at Weill Cornell Medical College and an Assistant Attending Anesthesiologist at NewYork-Presbyterian Hospital/Weill Cornell Medical Center. Dr. McSwain and her husband reside in New York City.