Mark I. Rosenblatt, M.D., Ph.D.
Ophthalmology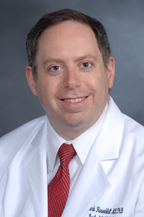 Dr. Mark Rosenblatt attended the accelerated Honors Program in Medical Education at the University of Miami, in Coral Gables, Florida, graduating with honors in Biology. He then joined the Combined M.D./Ph.D. Program at the University of Miami School of Medicine, earning both a medical degree with Alpha Omega Alpha honor distinction, and a doctorate in biochemistry and molecular biology. After completion of a medical internship at Mount Sinai Medical Center, Miami Beach, Dr. Rosenblatt completed a three-year ophthalmology residency at Harvard Medical School, Massachusetts Eye and Ear Infirmary. After residency, he completed a two-year fellowship program in Cornea and External Disease at the Massachusetts Eye and Ear Infirmary, and was the recipient of a Joint Clinical Research Center Fellowship.
Dr. Rosenblatt is a clinician-scientist, with a National Institutes of Health sponsored research program exploring mechanisms to restore vision following corneal injury. He is the author of numerous scientific and clinical articles in leading journals, and lectures nationally and internationally on topics related to corneal disease.
Dr. Rosenblatt is an Assistant Professor of Ophthalmology and a principal investigator in the Margaret H. Dyson Vision Research Institute at Weill Cornell Medical College. Prior to joining the Weill Cornell faculty, Dr. Rosenblatt was a faculty member in the Department of Ophthalmology and Vision Science at the University of California, Davis. At Weill Cornell, Dr. Rosenblatt will continue his research activities as well as his clinical practice focused on laser vision correction surgery and the treatment of corneal and cataract disease using the latest advanced surgical techniques.