Mathew C. Varghese, M.B.,B.S.
Dermatology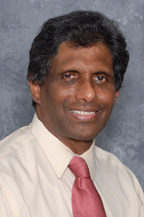 I have been a part of Weill Cornell Dermatology for more than 20 years. During my time here, I have developed long-lasting relationships with my patients. Here at Weill Cornell, our patients are at ease because our wonderful staff places the patients' needs as their first priority. I am confident that I and my fellow colleagues at Weill Cornell will continue to provide outstanding care to help alleviate our patients' concerns.
Recognized as a leader in general dermatology, and Professor of Clinical Dermatology, Dr. Matthew Varghese has exceptional expertise in all aspects of dermatology. From acne, psoriasis and eczema, to skin cancer and cosmetic procedures, Dr. Varghese has developed a diverse practice with loyal following. Particular interests include HIV and skin-related diseases of the immune system as well as various laser procedures. He also has expertise in pediatric dermatology.
Dr. Varghese received both his undergraduate degree and his MD from Kerala University in Kerala, Indian. Aside from English, he also speaks Malayalam.