Lisa B. Moreno, M.D.
Pediatric Allergy and Immunology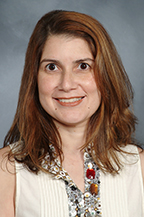 As a specialist in the field in Allergy/Immunology there is a vast array of symptoms and clinical diagnoses that I have encountered. The clinical role in treating the dynamics of allergies, asthma, and immunodeficiency is both challenging and rewarding. Every patient has a unique presentation. In working with my patients, I enjoy working closely with patients and their families to provide the most comprehensive, state-of-the art care.
Dr. Lisa B. Moreno is an Assistant Professor of Pediatrics and an Assistant Attending Pediatrician at Weill Cornell Medical College in the Division of Pediatric Pulmonary, Allergy & Immunology. She received her medical degree from George Washington University School of Medicine and completed her pediatric residency & served as Chief Resident at Cohen's Children's Hospital in New York. Dr. Moreno also completed her fellowship training at Cohen's Children's Hospital. Dr. Moreno has also received a Masters of Science in the field of Health Service Research and Epidemiology from the Weill Cornell Medical College.

She is board certified in Pediatrics and Allergy/Immunology. Dr. Moreno's patient population has served both pediatric and adults. Prior to joining Weill Cornell Medical College, Dr. Moreno served as faculty at Columbia University Morgan Stanley Children's Hospital.

Her clinical interests span the field to include asthma, allergic rhinitis, food allergy, atopic dermatitis, drug allergy, and chronic urticaria.

Dr. Moreno's research interest and experience has been primarily in pediatric asthma. Most recent research has involved the use of stress intervention techniques in the management of asthma.