Katharine Lampen-Sachar, M.D.
Diagnostic Radiology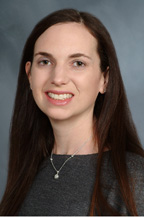 Katharine Lampen-Sachar, M.D. is a board-certified radiologist specializing in Women's Imaging and Body Imaging. She is an Assistant Professor of Radiology at Weill Cornell Medical College and Assistant Attending Radiologist at NewYork-Presbyterian Hospital-Weill Cornell Campus. She is a member of the Women's Imaging Division and Weill Cornell Imaging at New York-Presbyterian.
Dr. Lampen-Sachar earned her B.S. from Brown University in neuroscience, magna cum laude, and was elected to the Phi Beta Kappa society in her junior year of college. She was awarded her M.D. degree from Weill Cornell Medical College of Cornell University in 2007 and was inducted to the Alpha Omega Alpha (AOA) medical honor society.
After an internship year in internal medicine at Lenox Hill Hospital in NYC, she completed her residency in Diagnostic Radiology (2008-2012) at NewYork-Presbyterian-Weill Cornell Medical Center. This was followed a year of Fellowship training in Breast Imaging and Body Imaging at Memorial Sloan Kettering Cancer Center, New York. Dr. Lampen-Sachar returned to Weill Cornell Medical College Department of Radiology as a faculty member in July 2013.
Dr. Lampen-Sachar's clinical expertise is in Women's Imaging and Body Imaging. She interprets a variety of studies including mammography, breast ultrasound, breast MRI, and performs breast interventional procedures including stereotactic breast biopsies, and image guided breast biopsies (ultrasound and MRI). She interprets CT, MRI, x-rays and ultrasound studies of the chest, abdomen and pelvis. She achieved Board Certification in Diagnostic Radiology from the American Board of Radiology in July 2012
Dr. Lampen-Sachar's research interests include breast MRI. In addition to clinical and research activities, Dr. Lampen-Sachar is an active and involved teacher of residents, fellows, and medical students. She also participates nationally in the Radiologic Society of North America's Oncologic Imaging Task Force.
Dr. Lampen-Sachar is a member of several radiological societies listed below:
American College of Radiology (ACR)
American Association of Women Radiologists
Society of Breast Imaging
Association of University Radiologists (AUR)
Radiological Society of North America (RSNA)
New York Roentgen Ray Society
American Roentgen Ray Society