Kevin Brown, M.D., Ph.D.
Otolaryngology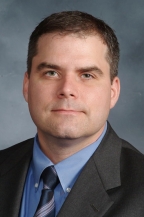 Dr. Kevin D. Brown is a board-certified otolaryngologist specializing in the medical and surgical treatment of otologic and neurotologic disorders (ear and skull base disorders) in both adults and children.

If you are scheduled to see Dr. Brown as a new patient, please print and complete the Patient Packet and bring it with you on the day of your appointment. Thank you.
Dr. Brown's medical training began at the University of Iowa where he received his MD and PhD in immunology from the NIH sponsored Medical Scientist Training Program. Following completion of his degrees he began a residency in Otolaryngology under the direction of Dr. Bruce Gantz. After finishing his residency he completed a two-year accredited fellowship in neurotology and skull base surgery at the University of Miami under the direction of Dr. Thomas Balkany and Dr. Fred Telischi.
Dr. Brown's major clinical interests include the following areas. First, he is keenly interested in the surgical rehabilitation of hearing loss by cochlear implantation and is uniquely trained in minimal incision cochlear implantation. He also works to rehabilitate hearing loss due to abnormalities of form and function of the ossicles of the ear, including ossicular reconstruction and stapedectomy. He is routinely involved in the treatment of both adult and pediatric patients with chronic ear disease (cholesteatoma). He manages and corrects ear canal and ossicular abnormalities in children with congenital malformations of the ear canal. He is also actively interested and involved in the treatment of benign and malignant disorders of the skull base including acoustic neuroma, meningioma, glomus tumors/paraganglioma, and temporal bone carcinoma. Dr. Brown also treats patients with diving-related barotrauma to the ear. Dr. Brown's major research interests focus on clinical results in cochlear implantation. He also maintains an active laboratory research program with a goal of developing ways to improve cochlear implant outcome by modulating interaction of the implant with the neural structures it stimulates, as well as evaluating cellular mechanisms of hearing loss.
Dr. Brown has authored numerous articles in areas of clinical neurotology including recent papers on stapedectomy and cochlear implantation. He was also a co-author on the most recent chapter on cochlear implantation in Cummings, Otolaryngology - Head and Neck Surgery.
He has also authored and presented papers on potential cellular mechanisms contributing to the development of acoustic neuromas, as well as possible cellular approaches to improve cochlear implant function, receiving national awards for both of these projects.