John T. Barnard, M.D.
Cardiovascular Disease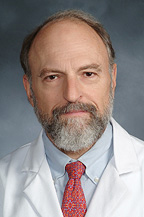 Dr. Barnard practices General Cardiology and Cardiovascular Medicine at the Weill-Cornell campus of NYPH. His practice includes patients with hypertension,hyperlipidemia, coronary artery disease and its complications, valvular heart conditions, and those who have undergone heart surgery or interventional procedures. He works in close affiliation with all physicians in the Division of Cardiology, including subspecialists in Cardiac Electrophysiology, Heart Failure, Diagnostic and Interventional Cardiac Catheterization, and Non-Invasive Testing. Dr. Barnard has been in the practice of Cardiology since completing his specialty training in 1983. He joined the staff at Weill-Cornell in July, 2007.