James R. Wilentz, M.D.
Interventional Cardiology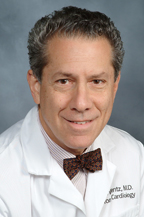 My professional interests lie in evidence-based interventional treatment of coronary, carotid and vascular disease. For me it has been gratifying to practice both consultative and interventional cardiology. This has allowed me not only to achieve a high level of technical proficiency, but also to really connect with patients and families, and to understand their concerns. On the clinical and research side, I continue to be active in the areas of coronary flow determination before stenting, carotid stenting, stroke prevention, new approaches to intermittent claudication, leg vessel stenting and atherectomy, and valvular heart disease treatment. Coming to Cornell as faculty allows me to interact with a team of excellent physicians all focused on the provision of the highest level of care to our patients.
Dr. Wilentz was born and raised in the New York area. He graduated Alpha Omega Alpha from the New York University School of Medicine after receiving his BA in English from Columbia University. He performed his Medicine residency and Hematology fellowship at Harvard's Peter Bent Brigham Hospital in Boston. He was a Cardiology fellow and attending at the Boston City Hospital where he was co-investigator on the first TIMI trial of clot-dissolving medication in acute myocardial infarction. After his Interventional Cardiovascular fellowship under Dr. Andreas Gruentzig, the originator of coronary balloon angioplasty, he became Associate Chief of the Catheterization Labs at Lenox Hill Hospital, and has directed the Interventional Cardiology Labs at Beth Israel and St. Luke's Roosevelt. Dr. Wilentz joined the full-time faculty at Weill Cornell Medical College – New York Presbyterian Hospital in 2011. He is a Fellow of the American Heart Association's Council on Clinical Cardiology, the American College of Cardiology and the Society for Cardiovascular Angiography and Intervention. Dr. Wilentz is the author of numerous publications on carotid and peripheral vascular disease interventions and has been an investigator on many trials of coronary and peripheral and carotid interventional devices and strategies.