John Chapin, M.D.
Hematology/Oncology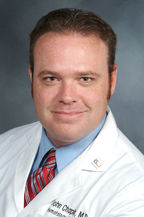 John Chapin, M.D., is an Assistant Professor of Medicine at Weill Cornell Medical College and Assistant Attending Physician at the NewYork-Presbyterian Hospital.
After graduating from Bates College with a BS, Dr. Chapin obtained his MD from the University of Vermont in 2007. After the completion of his residency at Montefiore Medical Center, he was accepted into a three-year fellowship program in Hematology/Oncology at Weill Cornell Medical College/the New York-Presbyterian Hospital. After completing his fellowship, he was recruited to a faculty position in support of the Division's Nonmalignant (Benign) Hematology Service.
Working with Dr. Maria DeSancho and other members of the Benign Hematology Service, Dr. Chapin's emphasis is treating adult patients with Thalassemia and Hemophilia. He also plays an invaluable role in the transition of adult patients being cared for by pediatric hematologists to adult hematology. He collaborates with Dr. Jeffrey Laurence and other researchers at WCMC to develop focused translational research in nonmalignant hematology.
Dr. Chapin has received a number of awards, including a Haemophilia Academy Scholarship and Travel Award in 2012, a Hematology Fellow Research Consortium Travel Award in 2011, and a Barry Mishkin Award for Humanity, Ethics, and Excellence in the Practice of Medicine in 2010. In 2012, he was a Gordon Research Seminar and Conference on Hemostasis and Thrombosis Participant. He has 7 publications in peer reviewed journals, including four first-authored articles in journals that include Blood, Clinical Advances in Hematology and Oncology, and the British Journal of Haematology. He has presented abstracts at ISTH and the Thrombosis Hemostasis Research Summit of North America. Dr. Chapin is also a journal reviewer for AIDS, STD and Patient Care.