Jaclyn H. Bonder, M.D.
Physical Medicine and Rehabilitation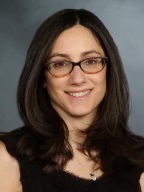 Dr. Jaclyn H. Bonder received her undergraduate degree from the University of Pennsylvania before attending medical school at New York University. She did her post-graduate residency training at the Rusk Institute of Rehabilitation Medicine of NYU Langone Medical Center. During her residency, she was honored with the position of Chief Resident and with funding to support growth of women's health rehabilitation in both academic and clinical areas.
Dr. Bonder is board certified in Physical Medicine and Rehabilitation and will serve as the Medical Director of Women's Health Rehabilitation. Dr. Bonder provides comprehensive musculoskeletal and rehabilitative care to women, with a particular interest in conditions related to pelvic floor muscle dysfunction and weakness, including chronic pelvic pain, urinary and bowel incontinence, as well as pain in lower back, groin, abdomen and hips. Her other areas of expertise include musculoskeletal problems related to pregnancy; post-partum pain, weakness, tingling or numbness; sports injuries specific to women; and rehabilitation following gynecologic surgeries.