Jessica E. Daniels, M.D.
Psychiatry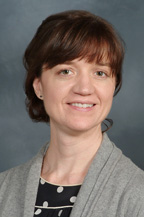 Jessica E. Daniels, MD is an Assistant Professor of Clinical Psychiatry at the Weill Cornell Medical College at the New York-Presbyterian Hospital-Weill Cornell campus. Dr. Daniels completed her Psychosomatic ("Mind-Body") Medicine fellowship at Memorial Sloan-Kettering Cancer Center and has cared for cancer patients and people with other serious medical illnesses including heart disease, HIV, neurologic diseases, and hepatitis throughout her career. Dr. Daniels has extensive experience in providing support and guidance in coping with severe illness.
Dr. Daniels is highly knowledgeable in the medication management of psychiatric disorders as well as symptoms related to medical illnesses including anxiety, mood problems, pain, insomnia, and confusion. She can also incorporate breathing and relaxation techniques, light and circadian rhythm therapies, mindfulness meditation, and basic body movement interventions into a coherent treatment based on the interests and goals of the patient.
Since 2010 Dr. Daniels has held a full-time clinical position at the Center for Special Studies of New York-Presbyterian Hospital, a multi-disciplinary program serving approximately 2000 individuals with HIV/AIDS across outpatient and inpatient settings. In addition, Dr. Daniels has a private practice with a focus on treating people who are coping with cancer or other serious illnesses. As a faculty member, Dr. Daniels is active in supervising psychiatric residents and teaching medical students. Her office is located in the Flatiron District of Manhattan.