Jeffrey Dayton, M.D.
Pediatric Cardiology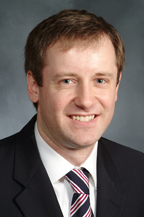 As a parent, I understand the stress involved with any doctor visit, particularly to a subspecialist. My goal is to provide you with all of the information needed to give you a thorough understanding of your child's condition. I encourage questions and hope you will not leave our visit until you have asked every question that you have, no matter how big or small. I am fortunate to be surrounded by a wonderful team in the Division of Pediatric Cardiology to help care for children and their families, prenatally continuing through early adulthood. I firmly believe that you will find the care you receive here at Weill Cornell to be personalized, thorough, and compassionate.
Dr. Dayton is Assistant Professor of Pediatrics in the Division of Pediatric Cardiology at Weill Cornell Medical College and Assistant Attending Pediatrician at New-York Presbyterian Hospital/Weill Cornell Medical Center. He is board certified in Pediatrics and Pediatric Cardiology.

His expertise includes caring for children with a wide variety of congenital heart disease, including those diagnosed prenatally by a fetal echocardiogram.

An expert in pediatric heart disease, Dr. Dayton's clinical responsibilities include coverage of the pediatric echocardiography laboratory where he focuses on fetal, transthoracic, and transesophageal echocardiography. As a member of the Perinatal Center team, he works closely with the Divisions of Newborn Medicine and Maternal-Fetal Medicine to help coordinate the care of infants diagnosed with congenital heart disease.

Dr. Dayton completed his undergraduate studies at Cornell University, where he graduated magna cum laude. He received a Bachelor of Science degree in General Biological Sciences with a distinction in research. He earned his medical degree from the State University of New York at Buffalo School of Medicine, where he received a Dean's Letter of Commendation in 2002. After completing his residency in pediatrics at the Emory University School of Medicine in Atlanta, Georgia, Dr. Dayton continued his training with a clinical fellowship in Pediatric Cardiology at the combined program of Columbia University Medical Center and Weill Cornell Medical College at NewYork-Presbyterian Hospital.

Dr. Dayton has presented his research nationally, including his project on post-transplant lymphoproliferative disorder in pediatric heart transplant recipients.