Jason C. Baker, M.D.
Endocrinology, Diabetes and Metabolism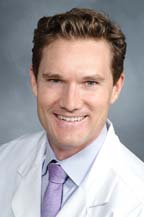 I believe that successful treatment of an illness requires a collaborative approach between a patient and a healthcare provider, and that the keys to good health include preventative behaviors such as good diet and exercise habits. I also believe there is much to be learned about medicine and disease prevention in the developing world, where I am currently pursuing numerous global health projects.

To schedule an appointment call 646-962-7300

For more information, please visit our website: weillcornell.org/wcma
Dr. Baker is currently an Assistant Professor of Medicine and Attending Endocrinologist at Cornell Medical College in New York. He is a graduate of Emory University College and Medical School. He completed an Internal Medicine residency at New York University and a fellowship in Diabetes, Endocrinology and Metabolism at Albert Einstein College of Medicine/Montefiore Medical Center. Dr. Baker, who himself has type 1 diabetes, has interests which include disease management through education and lifestyle interventions, prevention of type 1 diabetes, and the impact of diabetes on international health. Dr. Baker is involved in numerous global health diabetes projects, and has founded the non-profit organization "Marjorie's Fund" (www.marjoriesfund.org), a type 1 diabetes global initiative dedicated to education, care, and research of type 1 diabetes in the developing world. Dr. Baker also serves as a contributing author to The Medical Letter and contributing editor to dLife.com.