Ingrid Hriljac, M.D.
Cardiovascular Disease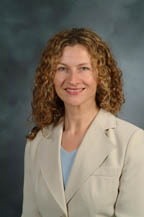 Dr. Ingrid Hriljac specializes in clinical cardiology, including coronary artery disease and valvular heart disease, and has expertise in all aspects of echocardiography.
In addition Dr. Hriljac has a special interest in the field of peripheral vascular disease. A significant number of patients with coronary artery disease also suffer from cerebrovascular, peripheral arterial and aortorenal vascular disease. She specializes in noninvasive vascular testing, including vascular ultrasonography and physiologic testing for the detection and evaluation of this disease.
A summary of Dr. Hriljac's Education, Training and/or Faculty Appointments is listed as following:
1998 -1999 Intern, Medicine - New York Presbyterian Hospital/Columbia - Presbyterian Medical Center - New York, NY
1999 -2001 Resident, Medicine - New York Presbyterian Hospital/Columbia - Presbyterian Medical Center - New York, NY
2001- 2004 Fellow, Cardiovascular Medicine - The Zena and Michael Z. Wiener Cardiovascular Institute - Mount Sinai Medical Center - New York, NY