Hilary M. Hochberg Shohet, M.D.
Diagnostic Radiology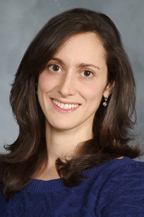 Dr. Hilary M. Hochberg received her A.B. degree in Molecular Biology from Princeton University, Princeton, NJ. She then earned her M.D. degree from the Weill Cornell Medical College of Cornell University, New York, NY with Honors in Research.
After completing her internship year at the Mount Sinai Hospital, New York, NY, Dr. Hochberg received her radiology residency training in Diagnostic Radiology from Thomas Jefferson University Hospital, Philadelphia, PA. Dr. Hochberg was elected Radiology Chief Resident. Dr. Hochberg remained at Thomas Jefferson for an MRI Fellowship with emphasis in Neuroradiology, Body MRI, and Musculoskeletal MRI.
Dr. Hochberg has achieved Board Certification in Diagnostic Radiology from the American Board of Radiology.
In 2008, Dr. Hochberg joined the full-time faculty of Weill Cornell Medical College?s Department of Radiology. She is Assistant Professor of Radiology at Weill Cornell Medical College at Assistant Attending Radiologist at the NewYork-Presbyterian Hospital-Weill Cornell Campus. She is a member of the Body Imaging Division and performs a wide variety of studies in CT, MRI, ultrasound and x-ray. In addition to clinical activities Dr. Hochberg is involved in teaching residents and fellows.