Hillary Johnson, M.D., Ph.D.
Dermatology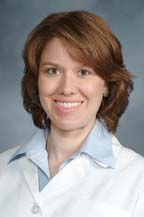 As a specialist in the prevention and treatment of skin cancer, patient comfort and clinical excellence are among my top priorities. Our surgical team consists of highly skilled and experienced staff who are also compassionate and attentive.
Hillary Johnson, M.D., Ph.D. specializes in the multidisciplinary management of skin cancer. She uses the Mohs micrographic surgical technique for microscopically controlled removal of high risk non-melanoma skin cancers, allowing for a narrow surgical margin and high cure rate. She also performs surgery for early stage melanoma with optimized microscopic examination of the surgical margin. Dr. Johnson applies advanced surgical reconstruction skills with individualized attention. In addition, she engages in a wide variety of aesthetic procedures and laser surgery.
One of Dr. Johnson's clinical interests is the prevention and treatment of skin cancer in immunosuppressed patients such as organ transplant recipients. She is a member of the International Transplant Skin Cancer Cooperative, the American College of Mohs Surgery, and the American Society for Dermatologic Surgery. She works closely with the American Academy of Dermatology, developing research and clinical tools to improve patient safety and quality of care. She also regularly contributes to the Journal of Drugs and Dermatology's clinical trials review. Dr. Johnson is an invited lecturer at national meetings as well as an author of academic articles and book chapters.
Dr. Johnson received her Bachelor of Science degree in microbiology with Highest Honors at the University of Iowa. She pursued her medical education and doctorate in immunology at Washington University's School of Medicine in St. Louis. Her PhD research focused on molecular pathways used by immune cells to fight cancer. Dr. Johnson completed her internship in internal medicine at the Beth Israel Deaconess Medical Center, a Harvard Medical School teaching hospital and trained in dermatology at the New York University School of Medicine. She then performed a two-year fellowship in Procedural Dermatology and Mohs micrographic surgery at the Columbia University School of Physicians and Surgeons/New York-Presbyterian Hospital.
Dr. Johnson practices at Weill Cornell Medical College on the 9th floor of the Weill Greenberg Building, 1305 York Avenue (SW corner of East 70th Street and York Ave).
Appointments can be scheduled by calling 646-962-MOHS (6647).