Himisha Beltran, M.D.
Hematology/Oncology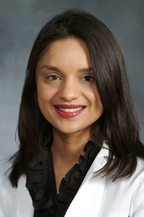 I am a medical oncologist specializing in the treatment of patients with genitourinary malignancies (including prostate, bladder, testes, and kidney cancers). My clinical and translational research focuses on development of new treatment strategies for patients. In particular, I am studying the genetics of prostate cancer, and I am involved in developing personalized treatment approaches for patients based on their cancer's specific molecular alterations. My clinical practice and research rely on close collaborations with clinicians, scientists, and physician scientists from multiple disciplines including pathology, urology, radiology, radiation oncology, computational biology, pharmacology, and medical oncology.
Dr. Himisha Beltran joined the Division as Assistant Professor of Medicine in 2011. Her clinical focus is in caring for patients with genitourinary malignancies (prostate cancer, bladder cancer, germ cell tumor, kidney cancer). She is actively involved in both laboratory-based and clinical research, and she serves as the liason for several bench-to-bedside translational research efforts at Weill Cornell. Dr. Beltran is involved in developing a research program to study neuroendocrine prostate cancer, an aggressive subtype of prostate cancer. By studying the RNA and DNA of these tumors, she is learning how these cancers evolve, identifying molecular alterations to target with drugs, and developing clinical trials to bring new effective therapy to patients. She is also involved in writing and leading several genitourinary clinical trials at Weill Cornell, and participates in national and international trials through the Cancer and Leukemia Group B (CALGB) and National Cancer Institute (NCI). Dr. Beltran is the recipient of numerous awards, including a Prostate Cancer Foundation Young Investigator Award, AACR Women in Cancer Research Scholar Award, and Damon Runyon Cancer Foundation Clinical Investigator Award.