Grace C. H. Yang, M.D.
Cytopathology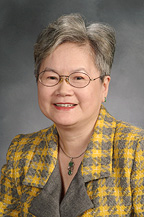 Dr. Yang is recognized internationally for her innovations in cytopathology and in New York City for her expertise in immediate diagnosis of image-guided FNA biopsies of superficial and deep organs. She published the largest series of follicular variant of papillary carcinoma and one of the largest series of follicular neoplasm detected by thyroid FNA. She was a member of National Cancer Institute Thyroid FNA State of the Art Conference Online Atlas Committee. Dr. Yang is on the editorial board of Acta Cytologica and Journal of American Society of Cytopathology, and was on the editorial board of Cancer Cytopathology. She has been active in American Society of Cytopathology as diagnostic seminar panelist, as workshop director in "High resolution effusion cytology" in the past, and as workshop director (2007) and Virtual Microscopy Tutorial (2008) in "Thyroid FNA with histologic correlations".
Dr. Yang, formerly a plant pathologist, was born in China and received her B.S. at National Taiwan University in 1964 and M.S. at University of Wisconsin in 1966. After working at medical schools as an electron microscopist for 16 years, she decided to become a pathologist. She obtained a M.S. in Zoology from Rutgers University in 1982 and M.D. from Robert Wood Johnson Medical School in 1987. She completed Pathology Residency at New York University from 1987 to 1991 and did cytopathology fellowship at University of Pennsylvania in 1992. She became a fellow of International Board of Cytopathology in 1997.
Dr. Yang was a junior faculty at Cornell when she co-invented Ultrafast Papanicolaou stain, which was reported in a New York Times article entitled -New technique provides biopsies much faster and more accurately - on 4/27/1995. In 1996, She was recruited to New York University Medical Center, where she rose through the ranks to professor. She returned to Papanicolaou Cytology Laboratory at this institution in November 2006.