George Thomas, M.D.
Clinical Cardiac Electrophysiology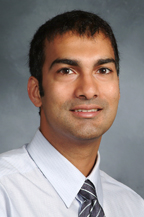 Clinical Electrophysiology is an exciting field with many new advancements. We have many new therapies that can help our patients feel better and live longer. It is very rewarding to be able to offer patients these new and proven therapies to make a positive impact in their lives.
Dr. Thomas was raised in Florida. He received his undergraduate degree at the Johns Hopkins University. He received his medical degree from Vanderbilt University in Tennessee and completed an internal medicine residency at Washington University in St. Louis. Dr. Thomas then received cardiology and electrophysiology fellowship training at the Cleveland Clinic. Currently, Dr. Thomas practices Electrophysiology as a full-time faculty member at the Weill Cornell Medicall College. He specializes in the treatment of heart rhythm disorders and performs a variety of procedures including: Catheter ablation of atrial fibrillation and atrial flutter; catheter ablation of ventricular tachycardia; implantation and extration of CRT devices, ICD's and pacemakers; management of palpitations and syncope.