Govind Nandakumar, M.D.
Colon and Rectal Surgery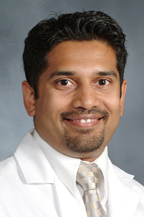 Govind Nandakumar, MD, is Assistant Professor of Surgery at Weill Cornell Medical College and an Assistant Attending Surgeon at NewYork-Presbyterian Hospital/Weill Cornell Medical Center.

Dr. Nandakumar is highly skilled and specializes in minimally invasive surgery for gastrointestinal cancers, including stomach cancer, pancreatic cancer, colon and rectal cancer, liver cancer and hepatobiliary cancer.
Dr. Nandakumar graduated with a B.S. on the Dean's List: Golden Key Honor Society from the University of Michigan in 2000, and his M.D. from Mount Sinai School of Medicine, New York, in 2004. He completed his general surgery residency training at NYP/Weill Cornell in June, 2009, and completed his fellowship in colon and rectal surgery at Washington University, Barnes Jewish Hospital, St. Louis in 2010. He received the Alpha Omega Alpha Resident Teaching Award, Cornell Chapter in 2005 and the Hassan Naama Chief Resident Teaching Award, Weill Cornell, in 2009.