Gail Ellen Solomon, M.D.
Child Neurology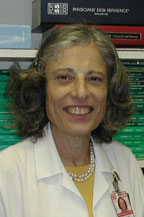 Dr. Gail Solomon is Professor of Clinical Neurology in Pediatrics as well as Professor of Clinical Neurology and of Clinical Neurology in Psychiatry. She serves as the Director of Electroencephalography and is also an Attending Neurologist, Pediatrician and Neurologist in Psychiatry at NewYork-Presbyterian Hospital.

She received her medical degree (M.D.) from The Albert Einstein College of Medicine and completed her residency in pediatrics at The Bronx Municipal Hospital Center and The New York Hospital. At Columbia-Presbyterian Medical Center, Dr. Solomon has held fellowships in neurology, pediatric neurology, and clinical neurophysiology. She is certified by The American Board of Pediatrics, The American Board of Psychiatry and Neurology (with special competence in child neurology and clinical neurophysiology), and The American Board of Clinical Neurophysiology.

Her major subspecialty interest is in epilepsy.