Elizabeta C. Popa, M.D.
Medical Oncology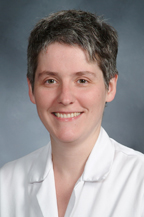 I have always been exquisitely sensitive to the cultural and emotional aspects of being ill. Fortunately, due to innovative treatments as well as a change in the medical mindset, we are now able to approach cancer therapy with a goal of maximizing quality of life while at the same time controlling disease. In many areas of oncology, especially in advanced, difficult to treat cancers and metastatic disease, the key to pursuing therapy is individualizing treatment to the patient's personal ability to withstand therapy. Thinking of cancer as a chronic disease and gearing therapies to be sustainable and effective is among one of my most important goals as I move forward with our clinical research and cancer treatment programs.
Elizabeta Popa M.D. is an Assistant Professor of Clinical Medicine and Assistant Attending Physician on the faculty of Weill Cornell Medical College in the Division of Hematology and Medical Oncology as well as a specialist consultant in hematology-oncology at the Hospital for Special Surgery.
Dr. Popa started her education in NYC at the United Nations International School- earning an International Baccalaureate Diploma in 1991 with an emphasis on English Literature and Foreign Languages. She then went on to earn her BA from Columbia University majoring in Biology in 1995.
Her medical education began at New York Medical College earning her MD in 1999. Dr. Popa specialized in Internal Medicine, earning her specialty diploma in 2002 after which she completed her medical training by sub-specializing in Hematology and Medical Oncology with a fellowship at New York University, graduating in 2005.
Upon finishing her training in 2005, Dr.Popa entered academic medicine, serving as Assistant Professor of Medicine in the Division of Hematology- Oncology at Mount Sinai School of Medicine from 2005-2007.
Speaking several languages including French, Romanian,Italian, and Spanish as well having experience with the international and diplomatic communities in New York City, Dr. Popa also has experience as teaching attending to medical residents and hematology/oncology fellows and will continue to be involved in training future generations as part of the Hematology/Oncology Fellowship Program.
She is actively involved in clinical trials in the areas of digestive and head/neck cancers, as principal investigator and coinvestigator as part of the Gastrointestinal Oncology Group at Weill Cornell Medical College.
She is a member of the American Society of Clinical Oncology, the New York Head & Neck Society as well as an active member of the WCMC Cancer Instiutional Review Board.