Dana Zappetti, M.D.
Pulmonary Disease Medicine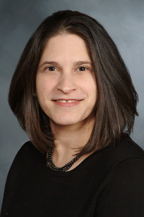 Dr. Zappetti specializes in inpatient and outpatient pulmonary and critical care medicine. She specializes in the diagnosis and treatment of all lung disease. Special areas of interest include: Asthma, COPD,Lung Cancer, pulmonary infections and respiratory disease in immunocompromised patients.

Dr. Zappetti is committed to medical education and serves as the Program Director for the Pulmonary and Critical Care Fellowship program, the Assistant Program Director for the Internal Medicine Residency and is the course Director for the Medical Subinternship at Weill Cornell medical College.
Internship: Internal Medicine, New York-Presbyterian Hospital/Weill Cornell Campus, New York, NY
Residency: Internal Medicine, New York-Presbyterian Hospital/Weill Cornell Campus and Memorial Sloan-Kettering Cancer Center, New York, NY
Fellowship: Pulmonary and Critical Care Medicine, Division of Pulmonary and Critical Care Medicine, Weill Medical College of Cornell University/New York-Presbyterian Hospital, New York, NY