Deyin D. Hsing, M.D.
Pediatric Critical Care Medicine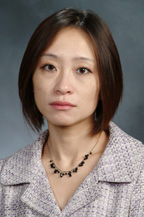 Dr. Deyin Hsing is an Assistant Professor in the Division of Pediatric Critical Care Medicine at Weill Cornell Medical College and an Assistant Attending Pediatrician at NewYork-Presbyterian Hospital. She received her undergraduate degree (BA) from St. Olaf College in Northfield, Minnesota and her medical degree (MD) from the University Of Iowa College Of Medicine in Iowa City, Iowa.
She completed her Pediatric residency training at the University of California, Irvine. She remained on the West Coast for her fellowship training in Pediatric Critical Care at the University of California, Los Angeles, where she was also a member of the UCLA Critical Care Transport team. She joined the the PCCM division immediately following her fellowship. She is currently the Medical Director of the PICU at NYHQ.
Her research during fellowship involved in the study of adrenal insufficiency in pediatric patients following cardiopulmonary bypass. Her clinical interests include the delivery of critical care to pediatric cardiac patients and is an active member of the Cardiothoracic Surgery Education and Quality Committee. She has additional interest in the delivery of critical care to pediatric cardiac patients in developing countries and has served as a medical volunteer on many of the medical mission trips sponsored by the International Children's Heart Foundation. Her current research interests include use of simulation in medical education as well as the use of non-invasive cardiac monitors in the care of critically ill patients.