Darren B. Schneider, M.D.
Vascular Surgery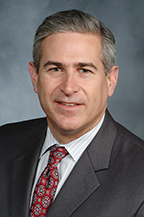 Darren B. Schneider, M.D. is Chief of Vascular and Endovascular Surgery at Weill Cornell Medical College, and Director of the Center for Vascular and Endovascular Surgery at NewYork-Presbyterian Hospital/Weill Cornell Medical Center. He is a board-certified in both Surgery and Vascular Surgery and a Fellow of the American College of Surgeons.He is an internationally-recognized expert in advanced minimally invasive vascular and endovascular procedures and completed formal training in both vascular surgery and interventional radiology. Dr. Schneider has extensive experience in minimally invasive procedures, as he was one of the first surgeons in the country to apply advanced endovascular techniques for the treatment of carotid disease, aortic aneurysms and dissections, and peripheral artery disease (PAD).Over the past decade he has treated many hundreds of patients using state-of-the-art technology and is a vascular specialist committed to the comprehensive care of the patient with vascular disease. His expertise also includes minimally invasive and open surgical techniques for treatment of varicose veins and deep vein thrombosis (DVT) and he performs thoracoscopic sympathectomy, a minimally invasive treatment for hyperhidrosis. He has been selected as one of the Best Doctors in America from 2005 - 2011 by Castle Connolly and US News World and was named one of America's Best Surgeons in 2008.

To find out more about vascular and endovascular surgery at NYP/Weill Cornell vist our website at http://cornellsurgery.org/patients/services/vascular-surgery/index.html

For Dr. Schneider's publications, click here
Dr. Schneider was an Associate Professor of Surgery and an Associate Professor of Radiology at the University of California, San Francisco prior to coming to NYP/Weill Cornell as Chief of Vascular and Endovascular Surgery.
His clinical research is focused on the design and development of endovascular devices for the treatment of aortic aneurysm and dissections and lower extremity arterial occlusive disease (PAD). Additional clinical expertise includes treatment of venous thoracic outlet syndrome, endovascular treatment of chronic venous occlusions and carotid artery stenting. He has led many clinical trials investigating new stent grafts and other new devices for treatment of carotid artery disease, aortic aneurysms, and lower extremity artery blockages. He also directed an NIH-funded laboratory research program studying stem cell therapy for the treatment of limb-threatening vascular disorders.
Dr. Schneider is widely published, with 38 articles in peer-reviewed medical journals, 8 review articles, and 10 book chapters.Dr. Schneider's expertise is demonstrated by the more than 90 invited lectures he has given to other medical professionals both nationally and internationally. He also serves as a reviewer for 4 professional journals.
Dr. Schneider received his B.S. degree from Stanford University in June, 1988 and his M.D. from the University of California, San Diego, in June, 1992. He completed his general surgery residency training at the University of California, San Francisco in June, 2000, taking time out to complete a Postdoctoral fellowship at Gladstone Institutes of Cardiovascular Surgery, San Francisco, from July 1995 to June 1998. Dr. Schneider also completed a fellowship in interventional radiology at the University of California, San Francisco, from July, 2000 to June, 2001 and a Vascular Surgery fellowship from July 1, 2001 through June 30, 2002.
A leader in his field, Dr. Schneider is a member of many prestigious professional surgical organizations including: the Society for Vascular Surgery, where he serves on several committees; the International Society of Endovascular Specialists; the Society of Interventional Radiology; the Association for Academic Surgery; the International Society for Vascular Surgery; the Society of University Surgeons and the Western Vascular Society. Dr. Schneider was also the President-elect and Program Chair of the Northern California Vascular Society.
Dr. Schneider is a Fellow of the American College of Surgeons, and serves as a committee member on the ACS Committee on Emerging Surgical Technology. He is also a member of the Peripheral Vascular Surgery Society, where he chaired and served as a member of several committees.