Brian G Turner, M.D.
Gastroenterology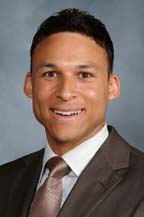 Dr. Brian Turner is a board certified gastroenterologist and advanced fellowship trained interventional gastroenterologist who is an Assistant Attending Physician at the NewYork-Presbyterian Hospital/ Weill Cornell Medical Center and Assistant Professor of Medicine at the Weill Medical College of Cornell University.
Dr. Turner is a passionate physician who is committed to evidenced-based management of his patient's and is an active contributor to the field of gastroenterology through his research efforts. He received his doctorate degree from Harvard Medical School, completed his GI training at Massachusetts General Hospital, and advanced endoscopic training at Beth Israel Deaconess Medical Center. His training includes an expertise in interventional gastroenterology and he also maintains an equally strong interest in general gastroenterology.
He is the recipient of a Harvard Catalyst Grant to fund research applications of flexible endoscopy and his significant laboratory efforts have also been funded by the Center for Integration of Medicine and Innovative Technology (CIMIT). He has published numerous academic articles pertaining to endoscopic surgical research, pancreatic cysts, pancreatic cancer diagnosis, and innovative applications of endoscopic ultrasound.
A major focus of his academic and clinic work includes the management of pancreatic cystic lesions, as well as diagnostic and therapeutic interventions for suspected and established pancreatic and biliary disease.