Benjamin J. Golas, M.D.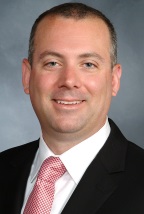 Benjamin J. Golas, MD, is an Assistant Professor of Surgery and an Assistant Attending Surgeon at NewYork-Presbyterian/Weill Cornell Medical Center. Dr. Golas is an experienced, board-certified surgeon specializing in surgical oncology, including minimally-invasive procedures for liver cancer, liver metastases, pancreatic cancer, and other gastrointestinal malignancies. He offers unique expertise in novel treatments for liver tumors, including radiofrequency ablation.

Dr. Golas received his MD from the Georgetown University School of Medicine in Washington, DC, where he graduated Magna Cum Laude and was elected to the Alpha Omega Alpha Honor Medical Society. He did his residency in general surgery at New York-Presbyterian Hospital/Weill Cornell Medical Center, serving as the Chief Surgical Resident. He completed a fellowship in Surgical Oncology with a focus in liver and pancreatic surgery at the University of Pittsburgh Medical Center. Dr. Golas also completed a research fellowship in the Laboratory of Epithelial Cancer Biology at Memorial Sloan-Kettering Cancer Center. Before joining NYP/Weill Cornell faculty, Dr. Golas was a Clinical Instructor in Surgery at the University of Pittsburgh Medical Center. He is a member of several prestigious medical societies, including the Society of Surgical Oncology and the Americas Hepato-Pancreato-Biliary Association. He has received several honors, including the Distinguished Housestaff Award from the Weill Cornell Alumni Council and is also a member of Phi Beta Kappa. Dr. Golas has published in multiple scientific journals, was a contributing editor for General Surgery Review, and authored a chapter entitled "Laparoscopic Liver Resection in the treatment of Hepatocellular Carcinoma and Colorectal Cancer Liver Metastases." He has presented at many national scientific conferences across the country on minimally-invasive surgery for hepatobiliary cancer and advanced surgical treatment for colorectal cancer liver metastases.